Rockin' for Rory 2018
April 20, 2018 was the date "Rockin' for Rory" was held at the Prysm Nightclub in Chicago. The Nadas, an Iowa Rock & Roll Hall of Fame band, performed at the Prysm Nightclub in Chicago. This incredible evening of music, dancing and friendship culminated in raising $85,000 for The Rory David Deutsch Foundation. Ticket prices were $100 per ticket. Included in the ticket price were Rory tee shirts depicting the evening's event, and an open bar. As a special treat, all present enjoyed Lou Malnati's pizza. Added to the festivities of the evening was a fabulous auction filled with items geared to the interests of all those in attendance. The Nadas played to a very receptive audience for the duration of the three-hour event.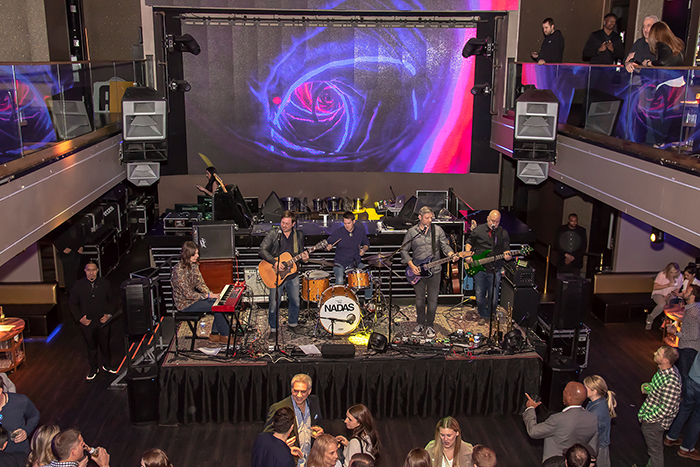 Mindy Deutsch stated, "We met the Nadas over ten years ago after seeing them perform live in concert. We became friends and asked if they would perform in a show to benefit Rory. Mike Butterworth and Jason Walsmith, founders of the band, enthusiastically agreed".
Jason Walsmith added, "We had a magical time playing for the 'Rockin' For Rory' event. We value Ross and Mindy as fans and friends and almost feel like we are part of the Deutsch family. We were honored to be able to play at such an amazing party. Ross and Mindy always surround themselves with truly good people, so to be trusted to play our music in that circle of friends is a real compliment. Being able to introduce some of our Chicago regulars to Rory's story was a great feeling as well. We will always make ourselves available to help tell Rory's story".
Marc Miller passionately commented, "The dedication and devotion to turn this extreme tragedy into something that is helping so many others is inspirational, and it makes you want to help in any way possible".
The Foundation's fund raising events began in 1999 with evenings designed for families with young children, Rory's contemporaries. Twenty-one years later our focus has shifted. We now design our events to attract young adults instead of young children. As a result, this night of music, friendship and support for The Foundation was most memorable as many of many of Rory's friends from Indian Trail School were in attendance. According to Enid Deutsch, "Everyone was happy to be there. It was a very congenial crowd". Ross Deutsch echoed these sentiments and extended a special "thank you" to the Nadas. He added, "We are very proud and gratified that the interest in Rory's Foundation is still very present and that there is continued support for The Foundation's mission".